Solar
Why Are Electricity Prices so Expensive?
How to tackle increasing and volatile energy rates by investing in renewable energy.
---
Electricity prices are on the rise, affecting people all over Australia. Whether you are a large commercial business or a family trying to budget their bills, the increasing wholesale electricity price doesn't discriminate. We have seen this jump massively over the past 12 months with some states more than tripling in spot price since June 2021.



What is causing energy prices to increase?
International events like the war in Ukraine have increased worldwide demand for fossil fuels. Australia is one of the largest exporters of gas in the world and can produce more than enough gas for its energy needs. According to data collated by the Climate Council from the Department of Industry, Science, Energy and Resources (2020a), e

xports account for 72% of Australian produced natural gas and require another 7.5% for processing exported gas, this leaves just over 20% of natural gas for domestic use. Due to the lack of restrictions applied to gas companies, we will continue exporting in large quantities forcing Australians to compete with its own

exports for natural gas.




The planned decommissioning of coal plants will continue to drive the need for gas-generated energy to step in when there is a shortfall in supply. At the present, these unreliable and ageing coal stations are suffering unplanned outages that require ongoing maintenance and construction.

When facilities cannot produce enough energy, we rely on gas-generated electricity as the price setter of the market. meaning all electricity generators get paid what gas-powered generation costs, directly increasing the cost of electricity for consumers.



Climate change is impacting the frequency of extreme weather events, With devastating floods attributing to network outages and cold snaps driving up the demand for heating. Events like this will continue to put pressure on the energy market, leading to increased volatility and higher electricity costs.


All these factors have created the perfect storm for energy prices in a country that heavily relies on coal and gas for electricity production. The lack of coal generation has required gas to fill the gaps in energy production, leading to expensive spot prices for electricity and gas. Trying to control an issue that's gotten out of hand, Australia's energy market operator (AEMO) has now stepped in to provide short-term relief by suspending the National Electricity Market, making wholesale prices fixed rather than set competitively. This will help to stabilise energy rates in the medium to long term. Still, a major investment in renewable energy is needed if we are going to move from our reliance on fossil fuels and tackle the energy crisis in Australia.



How much are prices increasing nationally?
Spot prices are different in each state and some states are being hit harder than others. NSW is currently leading the charge at approximately $208/MWh and QLD is right on its tail at $200/MWh, this is over a 300% increase in just a year compared to June 2021 when rates were $59/MWh and $48/MWh respectively. The Australian energy regulator (AER) can see how volatile spot prices can be. To counter this, AER has recently introduced a safety net price cap to ensure consumers are protected against high spot prices.
| | | | |
| --- | --- | --- | --- |
| Location | June 2021 ($/MWh) | June 2022($/MWh) | Increase Over a Year |
| NSW | 59.9 | 205 | 342.2% |
| VIC | 42.3 | 123 | 290.7% |
| SA | 46 | 165 | 358.7% |
| QLD | 48.3 | 200 | 414% |
| API (National) | 46 | 174 | 378.2% |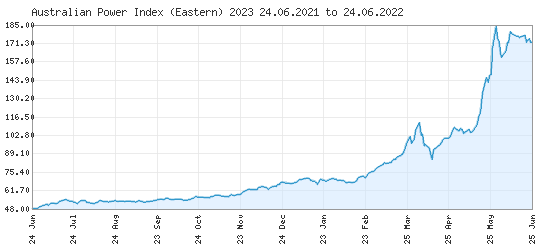 Australian Power Index (ASX Energy)



What can I do to save on rising electricity prices?
The good news is you can not only tackle your increasing electricity rates but also become less reliant on volatile fossil fuel generation and more energy independent by investing in solar power and other renewables. For both large businesses and households alike, there are massive savings to take advantage of. With solar installation costs becoming increasingly competitive and electricity rates drastically increasing, the return on investment for solar has never been more appealing.

As shown in the images below, Beam Solar has conducted an assessment of a 1MW solar system using last year's electricity rate and return on investment compared to today's.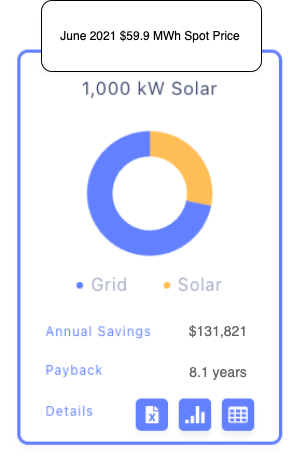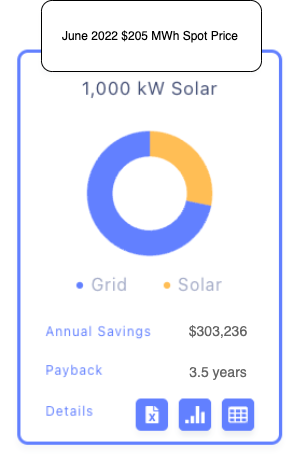 The payback has drastically decreased by 57%, making a solar investment that was possibly not cost-effective for the client in 2021 a feasible investment in 2022.

If you would like to take advantage of Solar and invest in your energy security for the future, we are here to assist you in doing so. Our experienced solar engineers and industry experts can help to confirm whether investing in solar is the right choice for you. We will conduct initial assessments for your desired sites while also finding the best suppliers on our marketplace to ensure acquiring solar is a quick and painless process. Get in touch with our experts or start your Beam Solar assessment by clicking the button below.