Solar
Q4 2021 - Solar Price Update
Solar prices increase amidst China's energy crisis.
---
Solar system prices have been trending downwards steadily for over a decade. However, occasionally we see it move in the opposite direction, as has been the case recently. These price increases are short-lived and should not be cause for concern for those looking to invest.
2021 was another great year for the solar industry and we saw some incredible achievements. National rooftop solar installs broke the 3-million mark, with Australia sitting firmly atop solar uptake per capita at close to 1kW of solar installed per person. South Australia became the first gigawatt-scale grid in the world to achieve negative demand, with state-wide PV reaching a peak penetration of 108% of state demand late last year. Commercial solar installs have shown significant growth and were a big contributing factor into both achievements.
However, along with the achievements there was some turbulence. The most notable being a rapid rise in system prices towards the end of the year. Based on offers coming through the Beam Solar platform, we saw price increases of 15-20% in sub-100kW rooftop systems. This price rise was due to a multitude of factors but primarily a result of global supply shortages which drove up panel prices coming out of China.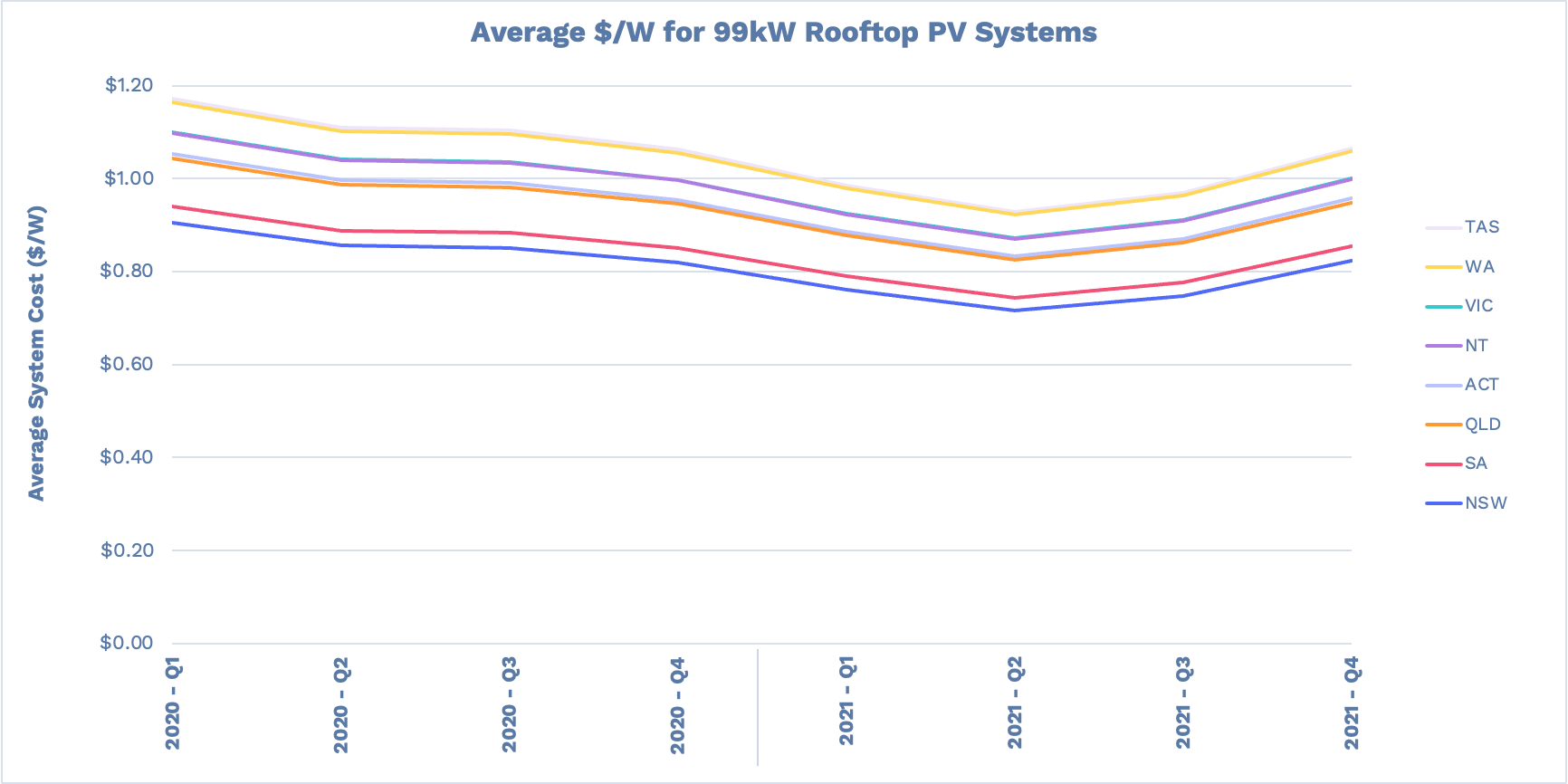 Price increases are not new to the solar industry. The market sways from over-supply to under-supply and international supply issues have caused price swings in the past. Prices do eventually relax back down again. To get a better idea on when we expect this to happen, let's look at exactly what caused this increase.
China's Energy Crisis
On 1st January 2020, the Chinese government imposed a new mechanism to regulate the electricity market to prevent rapid fluctuations in price. The National Development and Reform Commission (NDRC) stipulated prices for a consumer could not be lowered by more than 15% or raised by more than 10% from a fixed starting point.
Despite making significant investments in clean energy alternatives such as solar and hydro power in recent years, China's electricity industry is still heavily reliant on coal-powered generation to meet its energy demands. Unlike electricity prices, coal prices are not regulated in China, so many power companies are exposed to price swings in the coal market. Electricity prices often lag changes in coal prices and do not accurately reflect the balance between supply and demand.
In the second half of 2021, coal prices in China reached record highs due to reduced coal production and an increase in China's energy demand, particularly in the industrial sector amid their economic recovery following COVID-19. This increase in coal price drove many power companies to reduce their output as it was less profitable given the electricity price regulation, leading to power outages.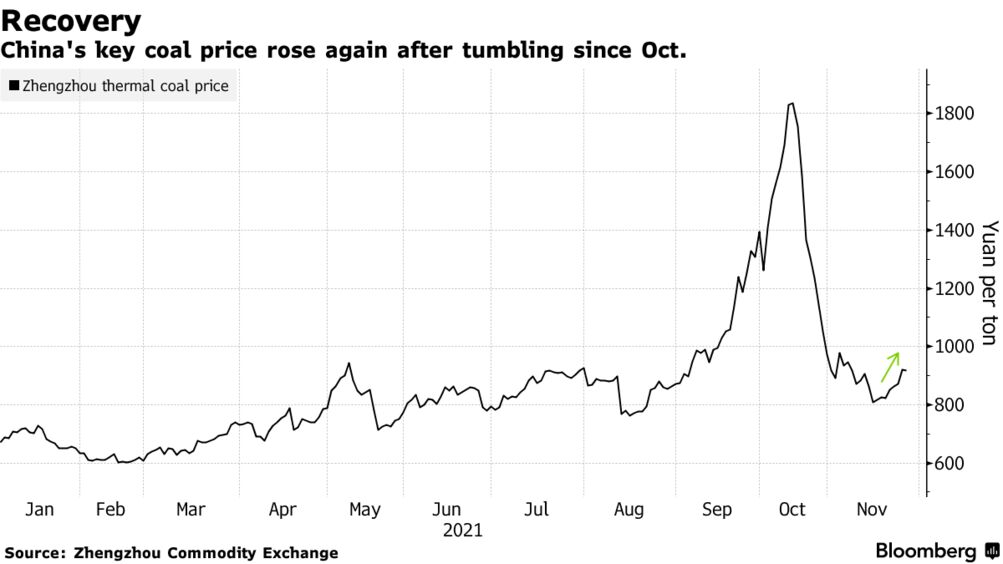 Image Source: Bloomberg
To add to this, emissions-reduction targets set by the central government for 2021 were not tracking well. A third of the 31 provincial territories in China didn't meet their targets leading up to July. The NDRC urged all local governments to take action to ensure targets were achieved by end of year. This led many local authorities to resort to power rationing, and in some areas, power to traffic lights was cut and supply to households limited which led to rolling blackouts.
The combination of China's emissions-reduction targets, record-high coal prices and supply issues led to power cuts across the country. The energy-intensive manufacturing industry was hit particularly hard with many plants forced to run at 50% capacity. This reduction in output resulted in a wide-spread supply shortage in all industries which export out of China. Given 90% of solar panel production happens in China, the solar industry was exposed to the impacts of China's Energy Crisis.
Raw Material Supply Shortage
Due to the curtailed production in China, many raw materials crucial to solar panel production increased in price as demand outstripped supply. Between January and October last year polysilicon rose in price by 185%. Solar wafers saw a price increase of 75% over the same period, solar cells an increase of 42%, and solar panels showed a price increase of 20%. These values refer to pricing out of the factory and do not account for any increase in freight costs.
Stock shortages and price increases were seen in most key components of solar systems, including inverters, isolators and racking equipment.
Shipment Costs out of China
Another factor in recent price increases is the international trade and transport challenges imposed by the COVID-19 pandemic. The price to bring an empty container from Shanghai to Australia back in 2019 was $900. The price today is $13,000, an increase of over 1300%. In terms of a $/W value, this equates to an increase from approximately 0.3c/W, to 4.3c/W for freight alone.
Price exposure in Australia
Australia's booming solar industry is an easy target when there is a surplus of stock. But when there is a global shortage, our competitive market makes us a lower priority to suppliers as other markets can pay more. This means when factories are running at 50% capacity, stock received in Australia is more likely somewhere around 30% as other markets take a higher share.
When will prices go back to 'normal'
Most predictions suggest solar prices will stay where they are until after February, and potentially into March and April. Once factories begin reopening after the Chinese New Year holiday and the heating season ramps down, we should see manufacturing climb back to full capacity with supply balancing out demand. China is currently spending billions of dollars on new polysilicon factories to help alleviate the supply issues. We should begin seeing solar system prices dropping back down around Q2 2022.
Compared with the returns on solar and incentives currently available (see our previous blog post on how VEEC's can benefit your project here), the recent price increase is small and does not present a significant impact on system payback. Solar is still a good investment even in the current environment. Furthermore, commercial projects take 3-6 months to implement. Given prices are expected to abate in Q2 of 2022, we recommend completing an assessment now and going to initial offers in Q2 if the project presents an attractive investment for your business.