Solar
Q1 2022 - Solar Price Update
Solar prices begin cooling off to start 2022.
---
Following a shaky final quarter of 2021, the new year has been looking up for the solar industry. Prices are beginning to relax again and the number of solar projects is continuing to rise as we traverse through 2022. Now is a great time to revisit those projects that were put on hold and investigate new opportunities for solar investment.
The end of 2021 brought some more challenges to the solar industry. Raw material supply shortages and energy reliability issues in china resulted in reduced supply of panels and inverters. Prices rose with the demand, as sub-100kW rooftop solar systems showed price increases of 15-20% between Q3 & Q4 2021. In addition to this, the new AS5033 standards were released and brought additional challenges for solar retailers and installers. The standards resulted in the delisting of some DC isolators and solar inverters from the CEC approved lists and caused some stock to be stuck on shelves, only adding to the impact of the supply constraints.
The turn of the new year brought a refreshing restart for many in the industry. The global supply shortages began to ease off and panel stocks went through the roof. With the difficult environment during Q4 last year, some panel distributors were updating their pricing daily. This brought widespread uncertainty to the industry and made it very difficult for solar wholesalers and retailers to plan stock for upcoming projects. The uncertainty in the market led many to over-order in fear that they would not be able to access stock when they needed it. Ultimately, this resulted in a panel glut in Australia. With panel supply through the roof, many companies began selling at cheaper rates, desperate to free up warehouse space and move stock.
From projects being quoted through the Beam Solar platform, we have seen a decrease in project cost of about 10% for rooftop solar systems sized 30-100kW. This has brought the price closer to what we were seeing mid last year before the supply crunch. Although inflated panel stocks have contributed to this rapid decrease, we expect pricing to continue to fall, albeit at slower rates, as the global supply issues continue to ease.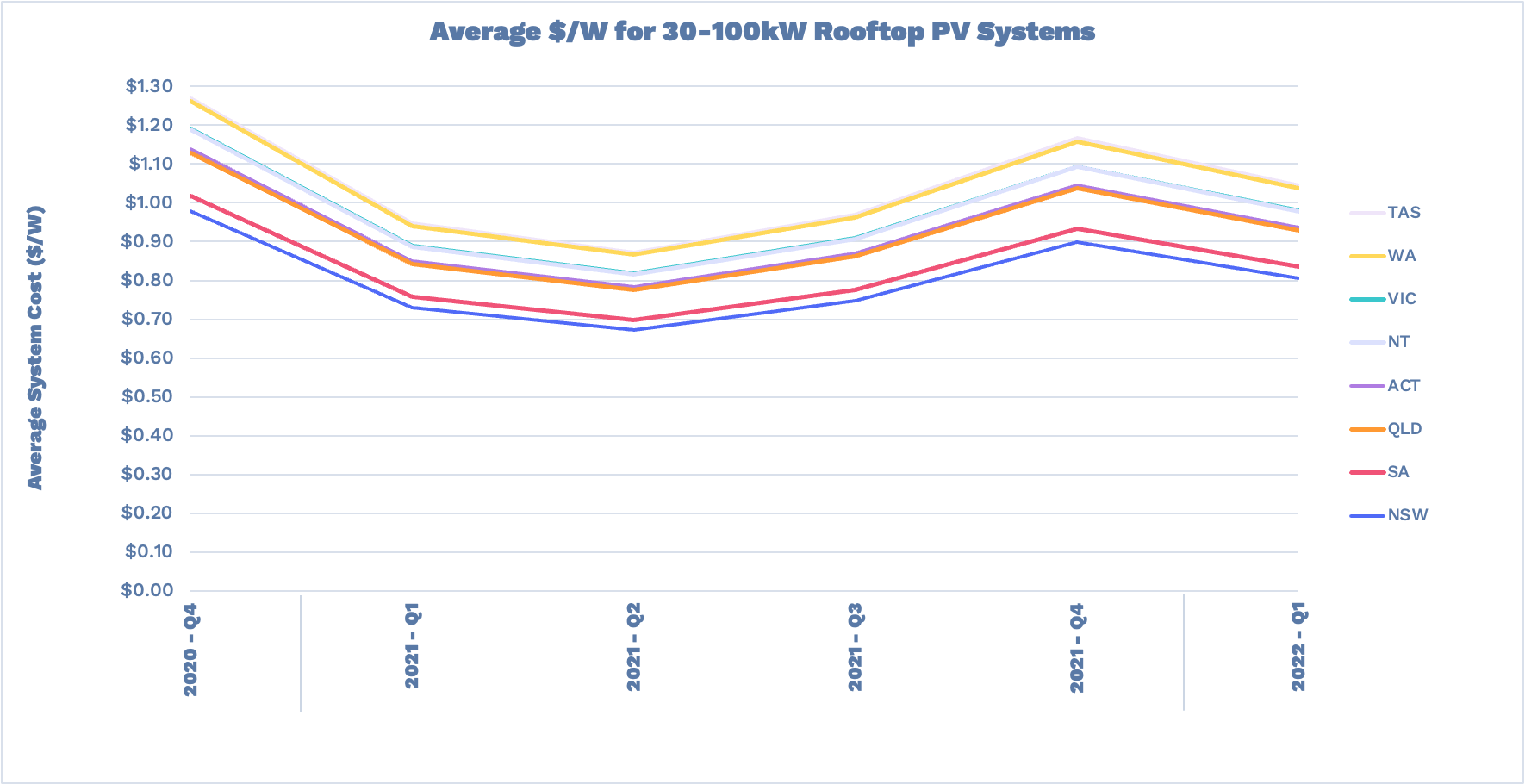 Along with the prices falling, we are also seeing a lot more projects coming through the platform. This is in part due to the current price drop, the fear that Victorian Energy Efficiency Certificates (VEECs) will continue to fall, and the lifting of COVID-19 restrictions on commercial and construction works. The first quarter of each year is notoriously slow. It takes people some time to get back into gear and to gain momentum for projects they have planned. That being said, this year has gotten off to a running start. In comparison to Q1 of 2021, the number of projects quoted through the Beam Solar platform has increased by a whopping 230% this year.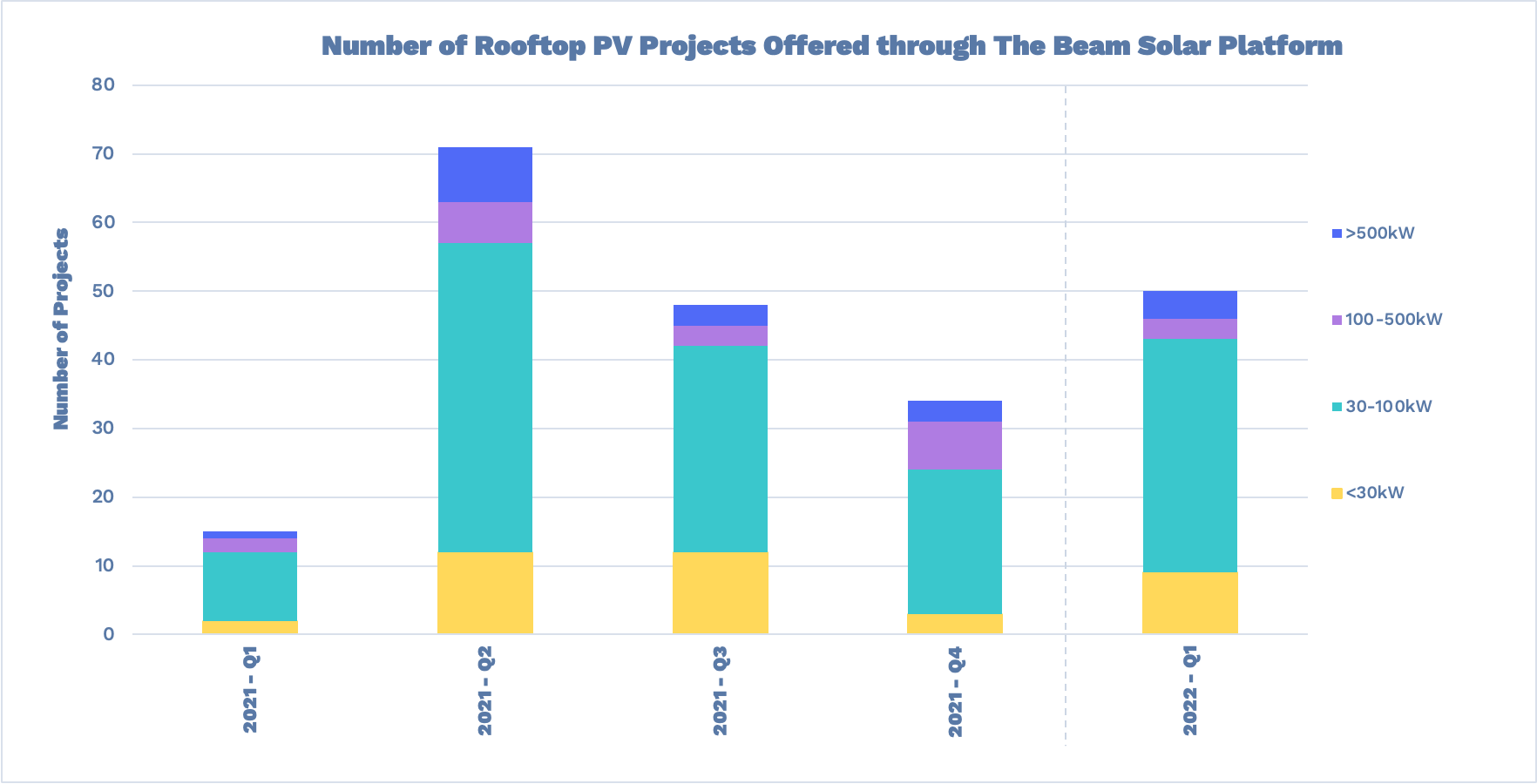 With prices continuing to fall, improved standard in solar equipment and installation quality, and zero emissions targets on everyones minds, there has never been a better time to invest in solar. The Beam Solar platform can help you investigate the options for your sites by modelling hundreds of system sizes with your electricity interval data to determine what solution is right for your business. With our team of solar experts, we can help you navigate the options and can provide assistance through the assessment, procurement, and operation of your solar system.
If you would like to know more, feel free to reach out to anyone on the Beam Solar team, or click below to start your own Solar Assessment.