Solar
Which Solar Proposal should I choose?
Solar proposals will often include different equipment brands, solar sizes, installation locations, warranties, performance guarantees and more. How do we make an objective comparison?
---
Last week we looked at what to consider when comparing Solar Retailers, including a breakdown of how Beam calculates a Solar Retailer Score. But how do we make an objective comparison between the details of individual proposals?
So, you've decided to put solar on the roof of your warehouse. Various agents have been cold calling you for months, telling you your roof is perfect for solar (at least as far as they can tell from satellite imagery). There's a truckload of PDFs in your inbox, proposals from the biggest names in the industry (or so they say). Why do some of the mock-ups put solar on the whole roof but others only on the north side? Why does only one of the proposals suggest an additional ground-mount system in the adjacent field?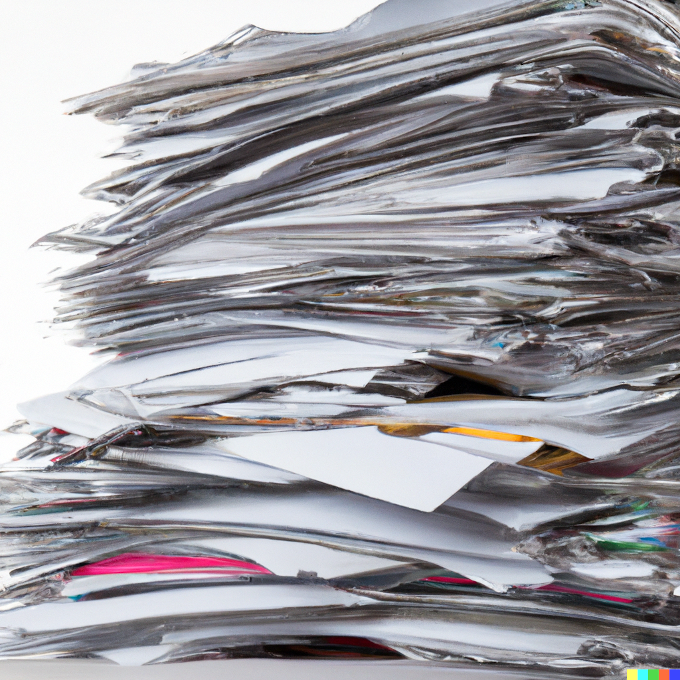 AI-generated image of the typical solar procurement process
Solar proposals will often include different equipment brands, solar sizes, mount locations, warranties and performance guarantees and more -- all of which make direct, objective comparisons a difficult task. To help with this we've developed a procurement process that guides retailers into providing structured Offers that can then be automatically scored and sorted by our platform.


Preparing for an Offers Round
Before asking any retailers for quotes we always independently assess a new site for its solar & battery viability. This gives us a few important pieces of information that will help us craft an Offer Request:
The maximum solar size each of the projects' sites can support
Optimum solar panel installation locations
The viability of batteries
(You can read about our full procurement process on the Procure page of our website, which goes into more detail about the Project Brief we develop and send to retailers)
Using the information from our assessment, we determine several potential Configurations of solar and/or batteries and EV chargers that could be installed at the site.


Then when retailers make Offers on those individual Configurations, we can re-run our assessment calculations (using the specific pricing provided) and give each one a Configuration Price Score.

Then we combine those individual configuration scores into a Total Price Score highlighted in the summary below: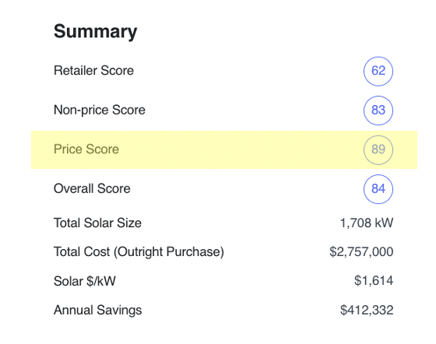 Scoring with Targets 🎯
Between the Retailer Score and Price Score we're able to directly compare who is making the offer and at what price but there's a lot more that goes into a solar project, including:
Solar panel/battery/inverter quality
Individual and whole product warranties
Specific project inclusions and exclusions
Estimated project timeline, practical completion dates
(You can read more about these in our posts on solar contracts and solar solutions)
We score these types of 'non-price' project components using individual sliding scales developed by our engineers. For instance, a solar product warranty is given the maximum score of 100 if it is greater than or equal to a Target of 25 years and the lowest score of 0 if it is less than or equal to a Floor of 5 years.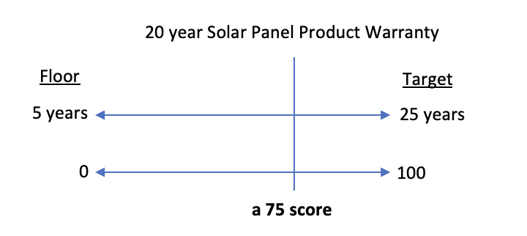 Each aspect of a project can also be individually weighted according to its importance to a particular customer.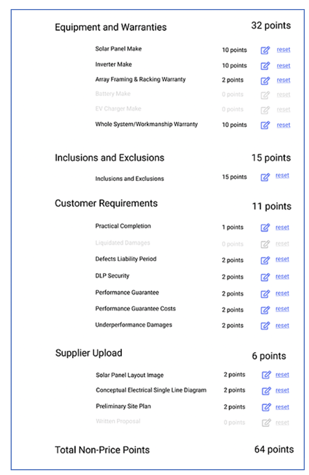 Adding it all up
Each Offer in our platform is given an Overall Score which is made up of a combination of its Price Score, Non-price Score and the Retailer Score. These individual scores can also be weighted differently for each project. Retailers need to provide a full solution or be penalised in one of the categories.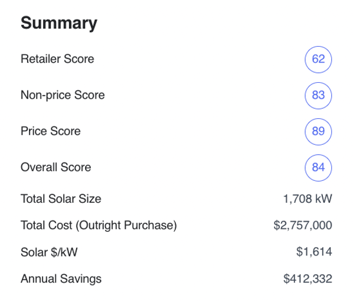 So, which proposal should I choose?
While our scoring process sometimes shows a clear winner, often there will be several great offers to choose from and our solar engineers can help you make the decision.

If you're considering solar or batteries for your business we recommend starting with a Beam Solar Assessment to determine the optimal solution for your site and then we can help guide you through Procurement.