Solar
Solar PV vs Carbon Offsets: Which One Is Right For You
Solar provides low risk, cost-effective abatement with high integrity.
---
If you are currently or planning to purchase carbon offsets to meet emissions reduction targets but have not considered solar, now is a good time to pause and re-evaluate your emissions reduction strategy given the recent adverse media attention towards ACCUs.
Are carbon offsets a con?
Australian Carbon Credit Units (ACCUs) are carbon offsets primarily sourced from reforestation and land management projects in Australia. The integrity of ACCUs has been questioned recently as reported in last week's 7:30 program on the ABC. While there are high quality carbon offsets available from the market, certain projects that are currently creating ACCUs may be heavily scrutinized with a review flagged by Federal Labor and the Greens.
Further, the controversial overhaul of the ERF has sent ACCU prices plunging by 40%. Purchasing carbon offsets as a form of emissions abatement is an ongoing cost to your bottom line that is exposed to market volatility and uncertainty.
We recommend purchasing carbon offsets only as a last resort option for hard to abate emissions such as indirect Scope 3 emissions associated with your value chain and purchased goods and services. Solar on the other hand should be implemented now wherever feasible combined with reducing energy use and emissions through efficiency and other means as shown in the image below.

Why solar is better than carbon offsets
Solar is a great way to achieve emissions reductions for your business whereas carbon offsets introduce financial, integrity and reputational risk. The comparison between solar and carbon offsets is summarised in the table below.
| | | |
| --- | --- | --- |
| Risk / Opportunity | Solar | Carbon Offsets |
| Financial | Achieve a solid return on capital investment through reduced energy costs or secure a Power Purchase Agreement (PPA) that is cashflow positive with zero capex. | Ongoing cost burden that exposes you to carbon market price volatility and uncertainty. |
| Integrity | Solar displaces electricity generation from coal-fired power stations – real emissions reductions that are easily measured and verified. | The environmental integrity of carbon offsets is questionable in some cases and depends on the specific carbon offset project. You need to do your research. |
| Reputational | Solar is visible, well understood and provides you with a great opportunity to improve the reputation of your business. | Carbon offsets with low environmental integrity can attract adverse media attention causing reputational damage to your business. |
Is solar cheaper than carbon offsets?
We recently completed a project for one of our clients to develop a strategy to meet their 2030 emissions reduction target in the most cost-effective manner. Our client has a national portfolio of sites and operations across Australia. We completed energy audits for a sample of sites to identify specific energy efficiency projects and completed solar and battery assessments for all feasible locations.
The chart below presents the marginal abatement cost curve (MACC) we developed for our client. The MACC plots all emissions reductions projects identified and analysed represented by the individual bars. The width of each bar (x-axis) represents the magnitude of emissions reductions available in the target year (in tonnes of carbon dioxide equivalence or tCO2-e). The height of the bar (y-axis) represents the relative Levelised Cost of Abatement (LCOA) (in $ per tCO2-e). Negative LCOA numbers represents a positive Net Present Value (NPV) and vice versa.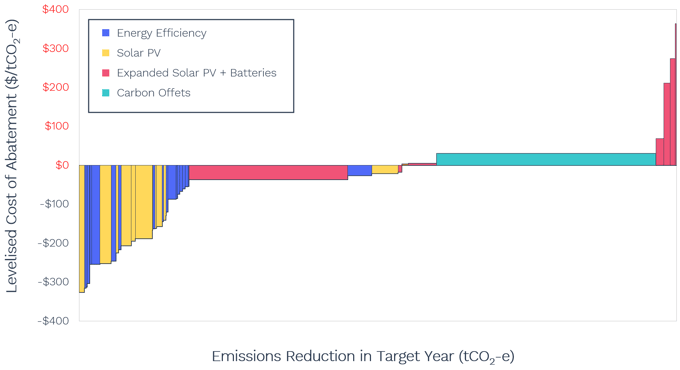 All projects to the left of the carbon offsets (green bar) should be implemented before purchasing carbon offsets as their abatement costs are lower (we assumed ACCUs are purchased at the current market price of $31 per tCO2-e). As such, we found the most cost-effective way to reach our client's 2030 target is to implement a range of specific energy efficiency projects combined with rooftop solar, and in some cases, battery energy storage.
As can be seen, all solar projects have a negative cost of abatement representing a positive NPV. There are even a small number of solar projects combined with battery energy storage that are more cost-effective than purchasing carbon offsets, including one very large solar and battery project (wide pink bar) located in Victoria that is eligible for the VEEC incentive (read more about VEECs in our blog here).
Summary
Carbon offsets should always be a last resort option for hard to abate emissions such as indirect Scope 3 emissions. Carbon offsets come with financial, integrity and reputational risks which should be evaluated on an ongoing basis as part of your emissions reduction strategy.
Carbon offset purchasing should also be coupled with a strategy to engage your suppliers and customers across and deep into your value chain to reduce Scope 3 emissions through sustainable procurement practises, sustainable and ethical resource consumption, creating circular economies and minimising waste to landfill. This will help you reduce your Scope 3 emissions and reliance on carbon offsets overtime.
There has never been a better time to install solar. Solar provides a great way to achieve high integrity emissions reductions that provide financial and reputational benefits to your business. To get started, get in touch with one of Beam's Solar Experts or start a Beam Solar Assessment by clicking the button below: